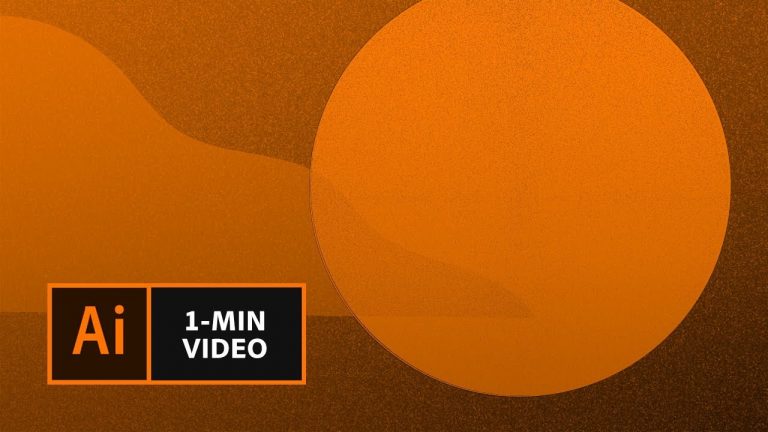 Apply a grainy texture to give your drawing shades of light and dark.
Start from scratch, or download practice files [https://learndownload.adobe.com/pub/learn/illustrator/make-mezzotint-grain.zip] for a head start. Steps below.
1. Open your drawing, or use ours (make-mezzotint-grain_download.ai).
2. Choose the Selection Tool and select the moon in the artwork.
3. Open the Appearance panel (Window – Appearance). Click the Fill layer, then click Duplicate Selected Item at the bottom of the panel. Drag the new Fill layer above the Stroke layer.
4. Apply a gradient: Click the new Fill layer, then click the down arrow and choose the White, Black gradient swatch.
5. Adjust the gradient properties: Open the Gradient panel (Window – Gradient) and double-click the Black Gradient Slider below the gradient preview. Select a new color (e.g., red-orange) and set the Angle (e.g., 90 degrees).
Tip: Click the Swatches icon (grid) below the Color palette (easel icon) to show the color swatches.
6. Double-click the white Gradient Slider in the Gradient panel, change its Opacity to 0%.
7. Apply a grain effect: Choose the gradient Fill layer. Click the fx icon in the Appearance panel. Choose Texture, then Grain to adjust the grain in a new workspace. Increase the Intensity and Contrast and experiment with the Grain Types. Click OK.
Tip: We liked 75 for Intensity and Contrast and Enlarged for Grain Type.
8. Expand the gradient Fill layer. Click the Opacity label and select Multiply.
9. Reuse the new style: Choose Window – Graphic Styles. Click New Graphic Style to add the new grain effect. Click another part of the drawing and click the style you just added to apply the effect to another part of the drawing.
That's it!
To learn more, visit our Illustrator Tutorials page.
Subscribe: https://www.youtube.com/user/adobecreativecloud?sub_confirmation=1
LET'S CONNECT
Facebook: http://facebook.com/adobecreativecloud
Twitter: http://twitter.com/creativecloud
Instagram: http://www.instagram.com/adobecreativecloud/
Adobe Creative Cloud gives you the world's best creative apps so you can turn your brightest ideas into your greatest work across your desktop and mobile devices.
Comments
comments