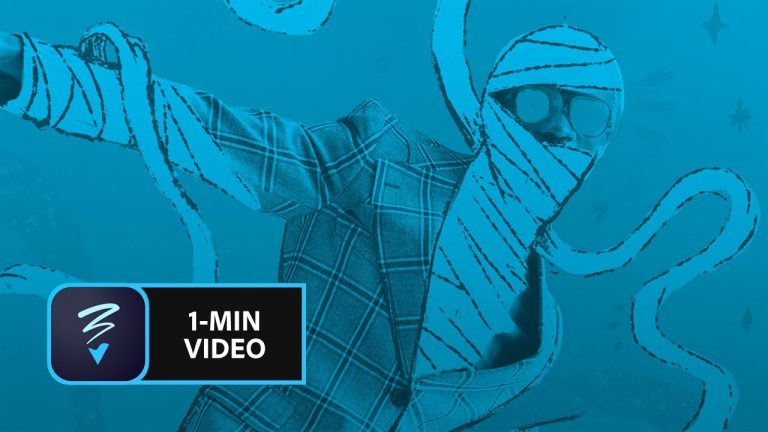 Take your portrait and make it scary.
Start from scratch, or download practice files [https://adobe.ly/2qiUQTb] for a head start. Steps below.
Prep your project:
1. Save the Adobe Stock image and Kyle's brushes (.abr file) to the Creative Cloud Files folder on your computer.
TIP: Here's[https://adobe.ly/2ICVMZq] a tutorial that shows other ways you can load Kyle's brushes into Adobe Sketch.
2. Download the Adobe Photoshop Sketch mobile app from the App Store for iOS[https://apple.co/2nY72rW], or from the Play Store[https://adobe.ly/2zbsTB2] for Android. Open the app and sign in with your Adobe ID.
NOTE: Check the App Store and Play Store for the minimum OS requirements for running Adobe Photoshop Sketch on your mobile device.
Spookify a portrait:
1. Tap + to start a new project.
2. Choose a portrait-layout Format.
3. Load the portrait: Tap the Background layer, tap the + icon and choose Image Layer, tap My Files, choose the portrait from the practice files, or use your own. Tap Open. Tap Done.
4. Load Kyle's brushes: Tap and hold one of the brushes to display additional brushes. Tap Add, tap Import from CC Assets, tap Kyle's Inktober Brushes.abr, then tap Open to load the brushes.
NOTE: If you added the brushes to a library, choose it from the Libraries list.
5. Choose the brush settings: Tap the brush you want to use to select it. Tap the brush again to display additional options. Tap Size and drag up or down to adjust the brush size. Tap Color to change the brush color.
6. Paint the base colors: Tap the Sketch Layer. Paint on the parts of the portrait you want to enhance. Adjust the brush size as needed when painting different areas. Tap the slider icon below Color to explore Opacity and other brush settings.
NOTE: We chose a light yellow to paint the "mummy bandages". You can choose colors from a color wheel, RGB palette, or Themes. These options are available at the top of the color palette.
7. Add details: Tap the + icon and add a new Sketch Layer. Change the brush to a small, dark tip. Brush in the outline of the self-portrait and the lines that define the bandages and other elements.
8. Experiment with the different brushes and settings and have fun adding more spooky details.
That's it!
To learn more about Adobe Photoshop Sketch and Adobe's other mobile apps, visit our Mobile apps Tutorials page:
https://adobe.ly/2SrbX2b
Subscribe: https://www.youtube.com/user/adobecreativecloud?sub_confirmation=1
LET'S CONNECT
Facebook: http://facebook.com/adobecreativecloud
Twitter: http://twitter.com/creativecloud
Instagram: http://www.instagram.com/adobecreativecloud/
Adobe Creative Cloud gives you the world's best creative apps so you can turn your brightest ideas into your greatest work across your desktop and mobile devices.
Comments
comments