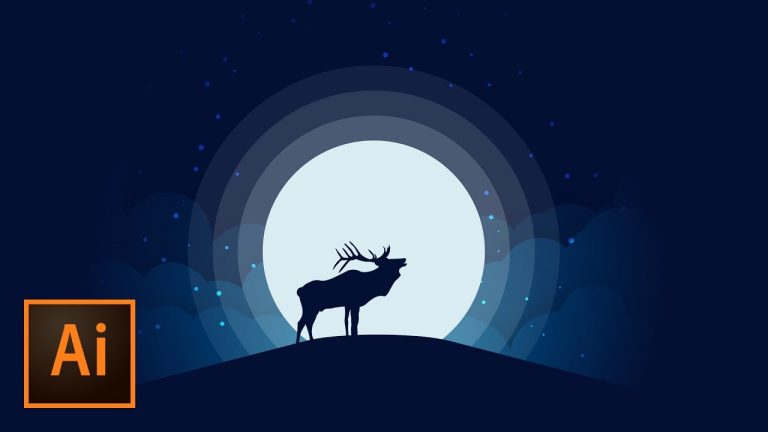 SHAPE TOOLS AND PATHFINDER TRICKS TO GET THIS EFFECT! | Learn tricks of the scatter brush, layer styles, masking and more!
Artist who's work inspired this tutorial: https://dribbble.com/shots/1850390-Wolf
Stock Photo of Elk: https://unsplash.com/search/elk?photo=lQ0gPL_0Bt8
? Subscribe for Daily Tutorials → https://goo.gl/DN4Nln
? Buy the Photoshop Course and Support the Channel → http://bit.ly/28NuwFy
In this Adobe Illustrator tutorial, we'll cover all the steps required to create this silhouette moonlight illustration with sparkling stars. We'll use a custom scatter brush to create several layers of clouds, blend them with some shadows and opacity adjustments, we'll use offset path to create a moon with glowing vector rings, we'll create a starry sky with randomized dots by scattering dots with the brush tool, we'll mask everything as needed to blend the illustration into our background, and then we'll drag a photo in a go over how to trace it with multiple shape tools and the Pen tool to create our silhouette. Check it out and I hope you love it!
⚡️ written tutorial here: http://bit.ly/2oAwwgD
INSTAGRAM: http://instagram.com/tutvid
TWITTER: http://twitter.com/tutvid
FACEBOOK: https://www.facebook.com/tutvid
SNAPCHAT: tutvid.com
tutvid is a YouTube channel dedicated to creating the best Adobe Photoshop, Premiere Pro, Lightroom, and Illustrator tutorials. My goal is to create the best, most informative, and entertaining tutorials on the web. If you enjoy my videos, the best way to support what I do here is to purchase my course linked above or simply subscribe to the YouTube channel by pressing the red button.
✉️ business inquiries: nate@tutvid.com
–
CREDITS:
Social Icons in outro: http://www.freepik.com/free-vector/six-social-networking-icons-with-infographic-resources_982300.htm
Comments
comments