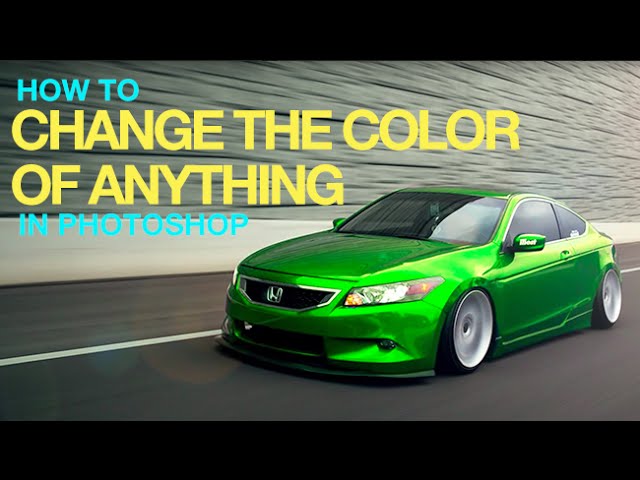 OUR #1 PRO TUTORIAL EVER IS NOW ON SALE! https://phlearn.com/product/photoshop-101-301
How to Change the Color of Anything in Photoshop
When changing the color of an object in Photoshop there are ways of changing both the base and highlight color of an object. We go
over each of these methods in this episode!
Base Color and Highlight Color
Today we will be changing the color of a car from blue to green. Cars have base colors and often times the highlights reflect a variation of that color. We use Hue/Saturation to target Blues and then adjust the hue slider until we have a color we like.
After choosing green as a base color we select out the highlights using Select Color Range and bring that selection into the Color Balance Adjustment layer. From here we show you how to adjust highlights, mid tones, and shadows separately.
Adding Style with Lens Flare
After we change the color of the car we couldn't resist adding a nice lens flare to the image. The Lens Flare gets a bad rap but when used well it can be very nice. We show you how to get a lens flare on its own layer and make adjustments to it.
You will learn how you can layer mask a lens flare in Photoshop and even how to mask and blur it.
Using Color Balance to Style Your Image
To finish the image off we use a Color Balance adjustment layer. Color Balance will allow you to change the highlight, mid tone, and shadow colors separately. This ability makes Color Balance ideal when it comes to adding style to an image.
In this case we add more yellow and red into the highlights while at the same time adding blues and greens into the shadows. The effect is subtle enough but gives the image a bit more of an edge.
——————————————————————————————————-
VISIT PHLEARN.COM FOR MORE FREE TUTORIALS
SUBSCRIBE NOW FOR MORE FREE TIPS AND TRICKS
http://www.youtube.com/subscription_center?add_user=phlearnllc
GET FREE TUTORIALS SENT TO YOUR EMAIL + DISCOUNTS ON OUR PRO TUTORIALS!
https://phlearn.com/mail
Use the same Tablet as Aaron: http://amzn.to/1Eykaoh
LET'S BE FRIENDS!
Instagram ► https://www.instagram.com/phlearn/
Facebook ► https://facebook.com/phlearn
Twitter ► https://twitter.com/phlearn
Google+ ► https://plus.google.com/116791098059215639405
Phlearn ► https://phlearn.com
Comments
comments