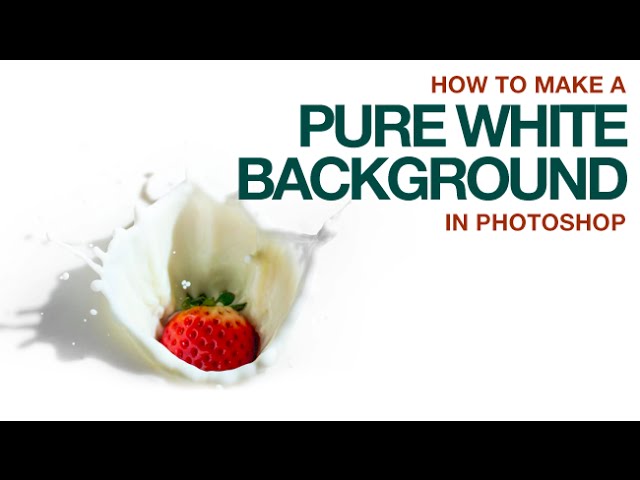 Our #1 PRO Tutorial ever is now on Sale! https://phlearn.com/popular
How to Make a Pure White Background in Photoshop
If you have ever photographed someone on a "white" backdrop only to find the white came out more of a gray you know why this episode is so important. An image with pure white edges will fade perfectly onto most websites but how do you get your whites to be "oh so white"?
In this episode we show you how to create that perfect white without losing too much detail in your images. As a bonus we also show you how to make pure black.
Testing White and Black with Threshold
The quickest way to test if you have pure white or black in your image is by using a Threshold Adjustment Layer. Create a new Threshold Adjustment Layer and bring the slider all the way to the right. If you see anything on your image, those areas are pure white. If you bring the slider all the way to the left, the areas with detail are pure black.
Paint White and Use Blend-If
Now that you know how to test if your image contains pure white or black it is time to make pure white. The easiest way to do this is with the brush tool. The edges of your image are the most important as they control how an image will look when uploaded online. Paint white over the areas of your image you would like to be lighter and use Blend-If to restrict this layer to the lighter areas of the image. This will make sure that you will keep shadow detail while making the lights lighter. Repeat this process over the image as needed.
View Your Image on White
To view your image on a pure white backdrop right click on the backdrop and go to "choose custom color", select white and you are done. If you see a shadow or a border between your image and the background in Photoshop go to your Menu and select Photoshop – Preferences – Interface. In the Appearance section choose "None" as your border for all 3 views.
VISIT PHLEARN.COM FOR MORE FREE TUTORIALS
SUBSCRIBE TO OUR CHANNEL FOR MORE FREE TIPS AND TRICKS
http://www.youtube.com/subscription_center?add_user=phlearnllc
GET FREE TUTORIALS IN YOUR EMAIL + DISCOUNTS ON OUR PRO TUTORIALS!
https://phlearn.com/mail
BUY THE TABLET AARON USES! https://phlearn.com/tablet
LET'S BE FRIENDS!
Instagram ► https://www.instagram.com/phlearn/
Facebook ► https://facebook.com/phlearn
Twitter ► https://twitter.com/phlearn
Google+ ► https://plus.google.com/116791098059215639405
Phlearn ► https://phlearn.com
Comments
comments