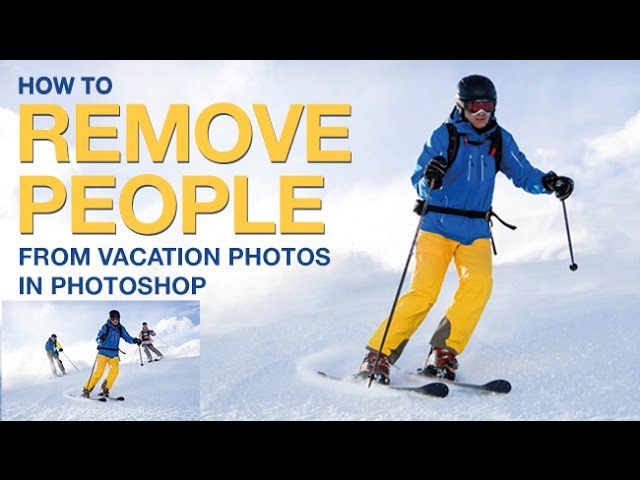 Our #1 PRO Tutorial ever is now on Sale! https://phlearn.com/rtyoutube
How to Remove People from Vacation Photos in Photoshop
You just got back from a wonderful vacation and can't wait to post your photos online, but there are a bunch of people in the background distracting from the gorgeous scenery. Learn how to remove people from the background of your photos in today's episode.
Photoshop Tools for Removing People
When it comes to removing people from photos, there are several tools that will do the job, depending on your image. It is best to learn every tool so you can best choose the right one for the job. In this episode, we teach you each tool for removing people from their backgrounds.
Spot Healing
The Spot Healing Brush tool is probably the easiest tool to use, so we recommend starting here. Be sure to create a new layer before healing and set the tool settings to "Sample all Layers" and "Content Aware". When you are ready to remove a person, simply paint over the person, the tool will do the rest.
Healing Brush
The Spot Healing Brush tool works well most of the time, but because it automatically chooses the sample point for you, sometimes it doesn't copy the correct texture. If you need to choose your own sample texture, go with the Healing Brush Tool. Hold ALT/OPTN and click on the desired texture area, then paint over the person you would like to remove. Be sure to cover the entire person to properly remove them. If needed, repeat to clean up any remaining areas.
Clone Stamp
The Clone Stamp Tool will create an exact copy of the sample point – meaning it won't blend like the Spot Healing Brush and the Healing Brush. This can be advantageous at times, especially when working around sensitive areas and edges.
Patch Tool
The Patch Tool is like a large-scale Healing Brush. First, be sure to check "Sample all Layers" and "Content Aware", then draw a selection around the object you would like to remove. Once selected, click and drag the selection to the desired area, the patch will be replaced with the sampled area.
Content-Aware Fill
Content Aware Fill will work well on simple backgrounds where the subject is isolated. To use Content-Aware Fill, make a selection around the person or object you would like to remove and go to 'Edit – Fill' and choose 'Content Aware' from the drop-down menu. Photoshop will find similar areas to the background in the selection and fill them in, replacing the object in the selection.
VISIT PHLEARN.COM FOR MORE FREE TUTORIALS
SUBSCRIBE TO OUR CHANNEL FOR MORE FREE TIPS AND TRICKS
http://www.youtube.com/subscription_center?add_user=phlearnllc
GET FREE TUTORIALS IN YOUR EMAIL + DISCOUNTS ON OUR PRO TUTORIALS!
https://phlearn.com/mail
BUY THE TABLET AARON USES! https://phlearn.com/tablet
LET'S BE FRIENDS!
Instagram ► https://www.instagram.com/phlearn/
Facebook ► https://facebook.com/phlearn
Twitter ► https://twitter.com/phlearn
Google+ ► https://plus.google.com/116791098059215639405
Phlearn ► https://phlearn.com
Comments
comments