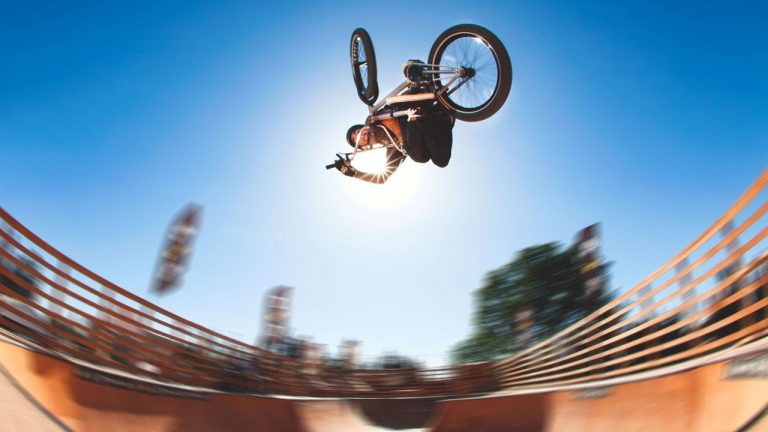 New Blur Gallery in Photoshop CC 2014
Adobe just released updates to Photoshop CC free for all CC subscribers. The new update is simply given a date to help you identify the updated software. Photoshop CC 2014 is even more powerful and the new tools they added will help you work faster and more precisely in Photoshop.
In today's episode we will show you how to use some of my favorite new tools in The Blur Gallery.
We will be using different blurs within the Blur Gallery to add style to a BMX photo.
Path Blur
For the first time ever you can blur along a curve in Photoshop. The Path Blur will allow you to create a simple or complex curve and it will automatically figure out the blur. This addition will help out automotive photographers who want to show motion blur around a turn. It will also give you more options for adding style to an image like the one in today's episode.
Blur effects tend to work well for action images.
Spin Blur
The new Spin Blur in Photoshop CC 2014 is similar to the Radial Blur but allows a bit more control and produces a slightly different effect. You will not need to use the Spin Blur on every one of your photos but if you are shooting bikes, cars, or anything else with wheels this blur makes the process of adding blur much easier.
In this episode we show you how to add a Spin Blur to a bicycle wheel and make selections so as not to blur the bike frame.
Making Selections for Blur
Any selection you make on your image will be carried into the Blur Gallery tools. In this episode we start out by selecting our subject and then applying the inverse so the blur only effects the background.
Adding Style to Images with Blur
While these blurs will not always produce results that are true to "Straight Out of Camera", they will allow you a lot of creative freedom.
———————————————————————————————–
Thanks for watching our free Phlearn Tutorials! If you enjoyed this video be sure to subscribe to our channel to receive free weekly videos.
Subscribe: http://goo.gl/LBIEQU
For more advanced Photoshop Tutorials be sure to check out our Phlearn PRO Tutorials. We offer the best Photoshop tutorials available online starting at just $14.99.
http://phlearn.com/pro-tutorials
———————————————————————————————–
Website: http://phlearn.com
Facebook: https://www.facebook.com/Phlearn
Google+: https://plus.google.com/u/0/116791098…
Comments
comments