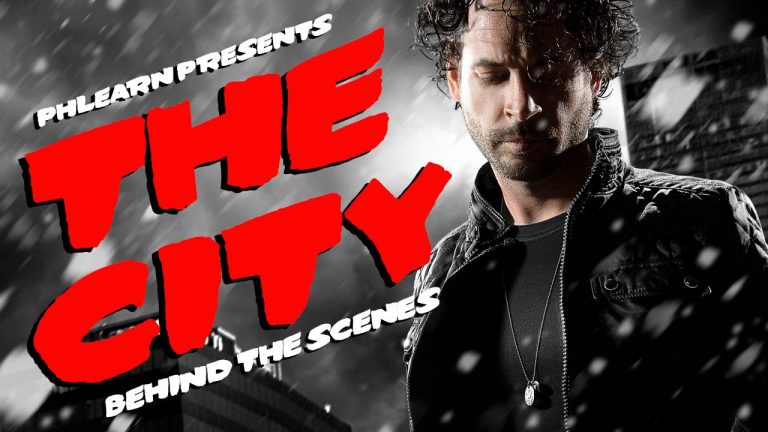 The City: Photography Tutorial
In this Photography tutorial we focus on three key elements necessary to produce this image. You will learn about lighting, styling and props and shooting for a composite.
Lighting
In terms of creating the "Sin City Style" lighting is the most important element. The look developed for the film was adapted from the original comic series and involves high contrast black and white images with harsh lighting. For the film they achieved this look through the use of "rim lighting". Rim lighting basically means placing lights behind your subject pointed towards the subject. This lighting creates a glow or "rim" of light around the subject, separating them from the background.
In this video we explain how we set up our rim lighting to achieve the "Sin City Style".
Styling and Props
The styling for this image is relatively simple but remains important in the production of the final image. Because the move was produced mostly in black and white, the wardrobe had to mimic those colors. We see a lot of contrast in the clothing worn by the subjects – large black jackets with white our black shirts worn underneath.
We also shoot with a prop gun to make the final image a bit more true to the original. These details may seem like a no-brainer but they are important in producing a final image that looks like the original.
Shooting for a Composite
You will learn what to do on set when shooting for a composite to make sure your process in Photoshop is quick and seamless. Much of the image was composited together in Photoshop without requiring a photo shoot. These details include the sky, the city, the snow and the text. The only thing we photographed for the image was the subject.
When shooting for a composite it is important to keep your background as clean and consistent as possible. For this shoot that meant shooting on a green screen and lighting the background so that it was evenly colored from one side to another.
Another great tip when shooting for a composite is to keep your lighting close to your subject as needed. When shooting an image on a regular background it is important to keep lighting and grip out of the shot, as they will interfere with the concept. That is not the case when shooting for a composite. Everything will be cut out of its background, so you can have all of these elements in frame if needed.
———————————————————————————————–
Thanks for watching our free Phlearn Tutorials! If you enjoyed this video be sure to subscribe to our channel to receive free weekly videos.
Subscribe: http://goo.gl/LBIEQU
For more advanced Photoshop Tutorials be sure to check out our Phlearn PRO Tutorials. We offer the best Photoshop tutorials available online starting at just $14.99.
http://phlearn.com/pro-tutorials
———————————————————————————————–
Website: http://phlearn.com
Facebook: https://www.facebook.com/Phlearn
Google+: https://plus.google.com/u/0/116791098…
Comments
comments