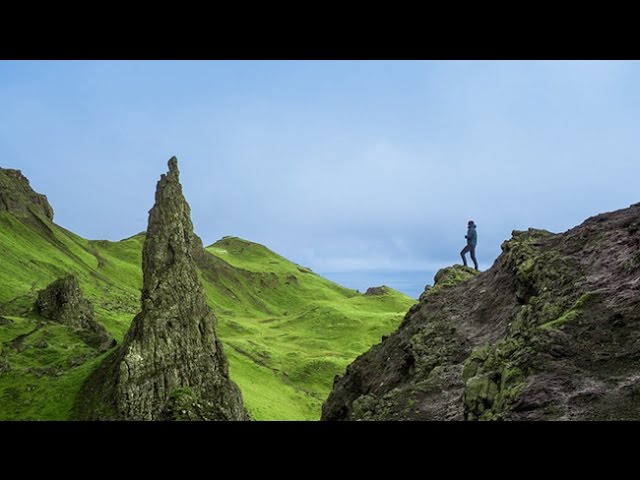 Stranger Things + PHLEARN! OMG!!! Check it out: https://www.youtube.com/watch?v=2NKLqDxfh2I
Download the sample image: https://phlearn.com/color-landscape-photos-photoshop
How to Color Landscape Photos in Photoshop
In this tutorial, we show you how to add life and vibrancy to a landscape photo. Is the grass a little lifeless? Add more green! Is the sky a bit gray? Add more blue!
How to Select and Change Colors
In this tutorial, you will learn how to select and change colors using the Hue/Saturation Adjustment Layer.
First, go to "Layers – New Adjustment Layer – Hue/Saturation" to create a Hue/Saturation Adjustment layer. Notice if you move the "Hue" Slider, it will change all the colors in the image.
To select certain colors, click on the drop-down menu that defaults to "Master." Select the color you would like to edit, then be sure to click on the Eye Dropper to fine tune the color selection. After clicking on the far-left Eye Dropper, click on the color in your image you would like to effect.
After clicking on the color in your image, adjust the "Hue" & "Saturation" sliders to add more color to those areas in your photo.
Repeat these steps for other colors in your image you would like to alter.
How to Select and Change Sky Color
In the first step, you learned how to target a specific color and change it. Now you will learn how to target an area of your photo and add more color.
First, select the Magic Wand Tool and click on the sky in the image. If the entire sky is not selected, try increasing the Tolerance of the Magic Wand Tool.
To include more of the image in the selection, hold SHIFT+CLICK with the Magic Wand Tool to add to the existing selection.
After selecting the sky, create another Hue/Saturation Adjustment Layer and click on the "Colorize" box. This will allow you to choose the color of the selected area.
In this example, we add more blue into the sky by adjusting the Hue and Saturation sliders.
Download the sample image: https://phlearn.com/color-landscape-photos-photoshop
VISIT PHLEARN.COM FOR MORE FREE TUTORIALS
SUBSCRIBE NOW FOR MORE FREE TIPS AND TRICKS
http://www.youtube.com/subscription_center?add_user=phlearnllc
GET FREE TUTORIALS SENT TO YOUR EMAIL + DISCOUNTS ON OUR PRO TUTORIALS!
https://phlearn.com/mail
LET'S BE FRIENDS!
Instagram ► https://www.instagram.com/phlearn/
Facebook ► https://facebook.com/phlearn
Twitter ► https://twitter.com/phlearn
Google+ ► https://plus.google.com/116791098059215639405
Phlearn ► https://phlearn.com
Did you know there is a lot more to PHLEARN than YouTube? https://phlearn.com/more
Comments
comments